Preparing your home for guests can feel a bit overwhelming, especially since your time may also be wrapped up in getting ready for the holidays. Here are a few simple tips to help make your guests feel welcome and at home.
Make space for your guests
This might seem like a no brainer, but it is probably the easiest, most effective way to help guests feel at ease right away. A cluttered guest room or common area can make guests feel unsure about where to put their things or feel out of place.
Clear some extra space in the guest closet, leave a drawer empty, put a small tray out for keys and phones in the guest room, and cut out some of the regular clutter in the great room. A few simple changes will give your guests plenty of space for essentials and to help them feel relaxed in your home.
Keep snacks readily available
Chances are that after traveling and between various family or tourist activities, your guests will be hungry, but may not always ask for something between meals. Whether it's a mini fridge in your Shea Homes guest suite or on the countertop in the kitchen, keeping a small array of snacks and drinks available for guests to help themselves to will provide a nice homey vibe.
Greet your guests with the essentials and some goodies
Be sure to make essentials like extra towels, bathroom necessities, alarm clock, phone chargers, etc. easily accessible for your guests. Offering an extra house key is a great way to help guests feel comfortable coming and going as they please.
A small goodie basket is another great extra touch as you welcome your guests to their home away from home. Throw in a few snacks, a magazine, some mini toiletries, or even a little brochure of things to do in your town!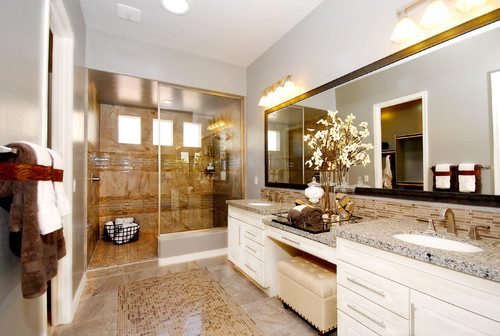 Keep décor simple and inviting
Not everyone has the time to invest in decorating for guests, but if you are transforming a room into a guest room, permanently or temporarily, keep in mind that warm tones are visually inviting and white linens add a cozy and clean appeal.
Remember that simple is best. Steer clear of too many knick-knacks and be sure to eliminate any extra items that your guest won't need during their stay.
Let your guests become familiar with your kitchen
Most guests will feel more comfortable if they know where to find the basics like a glass for water or a bowl for cereal (and the cereal itself!), rather than having to ask each time. Allow your guests to help out when they offer and make conversation as you prepare food, so they feel welcome in the kitchen—after all, the kitchen is often the focal point of the home during the holidays.

Need some more ideas for preparing for your holiday guests? Check out these and others on our Be Our Guest Pinterest board!