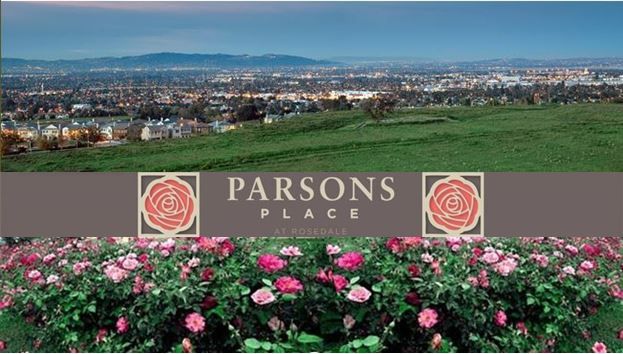 The Parsons Pink China Rose is known for blooming repeatedly throughout the year, constantly renewing its beauty and never fading with age.  Our newest community, Parsons Place, was named after the flower to reflect the flourishing community and the beauty of growth within a home.  Azusa, CA, a wonderfully temperate city nestled against the San Gabriel Mountain foothills, is a place that embraces natural splendor without sacrificing the comforts of modern living.  For young families and couples looking for a smartly-priced and spacious townhome, the Rosedale community hosts the perfect conditions to nurture a home-buying dream to fruition.
Parsons place offers 5 different floor plans to choose from, ranging from 2-3 stories and 1,460-1,969 sq. ft.  Whether you're in need of just 2 bedrooms or up to 4, Shea Homes has designed each townhouse to custom fit your needs by offering a multiplicity of room options.  Each plan includes a private deck, a covered front porch and a 2 car garage, making the transition from outdoor enjoyment to in-home comfort seamless and stress free.  With standard granite countertops, a breakfast bar or granite top kitchen island, energy star appliances and spacious pantries, the contemporary kitchen space will easily become a family favorite.  Parsons Place offers quality standard features so new homeowners can enjoy living in luxury with the affordability of Shea Homes.
Much like the China Rose, residents of Parsons Place also thrive outdoors.  The Rosedale Resort boasts a 5,300 sq. ft. leisure and recreation area: featuring trellises, an outdoor fireplace, barbecue, and a 75' Junior Olympic swimming pool, spa and children's wading pool.  The open-turf area is perfect for kids and adults alike, with an Adventure play structure, turf volleyball, stage and community gathering center, picnic tables and benches.  Beyond the resort amenities, community members can still enjoy the simplicity of winding trails and breathtaking city-light views.
Whether you're a homebody, a social butterfly, an outdoor-enthusiast, or just a little bit of everything: Parsons Place offers a harmonious blend of lifestyles that ensures that everyone in the family will live healthily and grow.
To get the latest updates on upcoming community events and phase releases, visit the Shea Homes website and sign up for our interest list.  Also be sure to like us on Facebook and sound off in the comments below!
{ 0 comments }