Oxnard, CA is considered to be the "Jewel of the Gold Coast", with its shining facets reflecting miles of coast line and an abundance of residential and commercial opportunity.  Regarded as the most business-friendly community of Ventura, Oxnard's reputation for high quality retail and buyer satisfaction has extended its reach to the city's newest shopping center: The Collection.
Located within walking distance of EastEnd, a uniquely-designed collection of two-story modern townhomes by Shea Homes, The Collection boasts 600,000 square feet of open-air shopping, pocket parks, water-wise landscaping and outdoor seating for the enjoyment of serious spenders and window shoppers alike.
Residents of the Rosedale community love the close proximity to a brand new Whole Foods, 16-screen Century Theatres Complex, Two-story REI, and Target; in addition to a wide variety of emerging and established designer boutiques and fine dining. The Collection has also taken care to incorporate the works of both nationally recognized and local artists to celebrate the rich diversity and coastal imagery of Oxnard's idyllic surroundings.


EastEnd homeowners are not only close to commercial entertainment, but also enjoy all the benefits of Riverpark's open space system.  With seven neighborhood parks, tot lots, jogging trails, pedestrian paths, playgrounds, and Oxnard's seven miles of white sandy beaches nearby, there's always an option for free, family fun.   And when school is back in session, Rio Del Mar Elementary and Rio Vista Middle School provide a state-of-the-art educational experience for students just a few minutes away from home.
While the city of Oxnard continues to grow both socially and economically, Shea Homes is celebrating the success of EastEnd by inviting potential home-buyers to a new phase release on July 13th. If you're interested in making Oxnard your home, sign up for our interest list today to receive the latest updates.  For more information, call (805) 604-1639.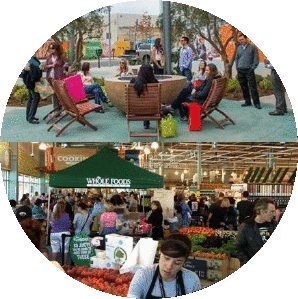 If you'd like to visit EastEnd at Riverpark, exit the 101 freeway at Oxnard Blvd. and head north for approximately ¼ mile.  The sales office/parking lot is located on Oxnard Blvd., on the right, just beyond the first round-a-bout intersection at the corner of Oxnard Blvd. and Forest Park Blvd.
Be sure to like us on Facebook, and sound off in the comments below!
{ 0 comments }